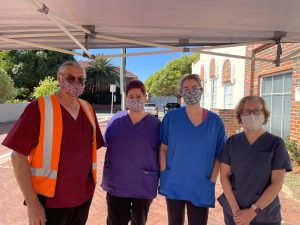 CAR PARK CLINICS AT VIEW STREET MEDICAL
DONT FORGET TO BOOK YOUR FLU VACCINATION
Our car park clinic has proven to be very popular and once again this year we are holding these clinics on a Saturday morning.
Please call the rooms on 9227 0170 and speak to one of our reception staff to make a booking.
COVID VACCINATION CLINICS
We are currently working our way through our waiting list and taking appointment bookings for our COVID vaccination clinics.
As of this week the health minister has advised that all patients over 50 years of age will be eligible to receive a COVID vaccination, we are currently prioritising patients over 70 years of age or with an underlying medical condition.
Please contact our rooms to place your name on our waiting list.